I love Friday's Not only does it signal that the weekend is a scant few hours away, but it's also when the blog carnival "Friday Follow" happens! I am so looking forward to this especially in light of the drama of losing not ONE, but TWO followers on my blog this week. *sigh* A moment of silence for them....
Now to the good stuff!
This is a special edition of Friday Follow.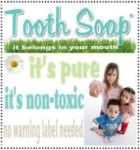 Here are the rules for Today's Friday Follow and a chance to
win 1 of 3 $100 prizes!!!
Check out our Friday Follow Sponsor & Giveaway!
No need to fear the dentist anymore. You can reduce the visits and make your dentist happy too. Brush with Tooth Soap®. Non-toxic, sustainable, organic and no need for a warning label. Created by a mom who has kids with no cavities. Get more information at: http://www.toothsoap.com/special-offers.
Toothsoap.com " I LOVE TOOTH SOAP®" CASH Giveaway!
THREE one hundred dollar cash prizes up for grabs from Toothsoap.com as a thank you for your Friday Follow participation!
Contest Requirement: To be entered into the contest for three 100 dollar cash prizes please do the following:
•* Please place the Toothsoap.com button on your blog post today for Friday Follow and also on your blog sidebar.
•* During the week of March 26 - April 2, 2010 THREE winners will be chosen AT RANDOM to win a 100 dollar cash prize from TOOTHSOAP.COM
•* Winners are selected by random.org using the Friday Follow Link System
•* Winners selected MUST have the Toothsoap.com button on displayed prominently on both their Friday Follow post and blog sidebar to be eligible to win said prize.
•* Winners will be notified by email and by blog comment by team@toothsoap.com.
•* Winners have 24 hours from notification date to claim 100 dollar cash prize via email.
•* Cash prize is payable by Paypal.com or check from Vitality Products to winners (winners choice).
•* Contest ends Friday, April 2, 2010 at the stroke of midnight.
•* Open to US & Canada Residents
Here's how YOU can join the Friday Follow celebration:
•* Link up your blog name and URL using the MckLinky below. Only need to add on one blog to be seen on all the blog hops.
•* Grab the Friday Follow and Sponsor buttons and include both on your Friday Follow blog post.
•* Follow the Friday Follow hostesses listed in the first 3 slots.
•* Follow as many other blogs on the linky as you'd like
•* Take a moment to comment on the blogs telling them you're from Friday Follow
•* Follow back if you like, when you get a new follower through Friday Follow
The list is new each week. The links do not carry over. Please link up each week for new participants to find your blogs. The list is only open to add your blog links on Fridays. It will be visible all week to visit the blogs listed.
Yes, this can be time consuming, so follow as
many
or as
few
blogs as you like. It's just for fun and to "meet" new poeple!!